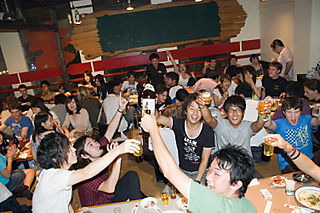 A 飲み会 (nomi-kai), or Japanese drinking party, is the major way in which college students, work associates, and large groups of friends socialize, and it has no equivalent in America. The event starts out with an organizer, who contacts the izaka-ya (bigger parties need reservations, smaller ones can walk in), and collects money from the party. It runs about $25 a person in the student-oriented spots, and up to $35 elsewhere. Izaka-ya's, traditional Japanese food-and-drink establishments, seem to be the main location- the party sits on the floor at long tables, with tiny glasses and plates in front of them. A limited amount of food (anything from pizza to takoyaki) is brought out, along with an unlimited amount of alcohol. These gatherings can range from small (6-10 people) to large (like ours, about 100), to giant (next week there's a welcome party of about 300 planned).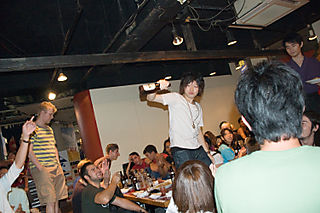 Herein lies the danger. Having already invested in the party, people tend to drink to get their money's worth (or more), and the various forced drinking songs, games, and challenges don't do much to regulate the alcohol intake. It ends up being a two-hour binge drinking affair, with some enjoyable conversation going on, but with everything secondary to the imbibing of large quantities of beer (other drinks come out, too, but beer is the most popular because of the high water/alcohol ratio). As someone who enjoys a couple drinks socially, conceptually, it's just not my idea of a good time, but as the Japanese say, 「しようがない」(shiyou ga nai), which roughly translates to "nothing to be done." Nomikai are a staple of socializing in Japan, and your attendance is fairly expected.
That said, my first 飲み会 was excellent. You're not forced to join the drinking challenges, just "Kanpai!" now and then, and watch the spectacle unfold. I made some new friends, learned some drinking songs, ate pizza, hot dogs, and french fries (someone must have told them the exchange students were coming), and had a quality time. Tipsily navigating the Japanese train system to get home was fun, too- I think a good rule of thumb is probably "No more than one drink per train transfer." Thankfully, the normally reserved Japanese salarymen are friendlier when a little 酔っぱらい (yopparai), and I made some new friends on the last train out to Sumida-ku.