Some friends from Waseda (where I'm studying) that came to my college
last year took me out to a club last night (or this morning, rather- we
met up at midnight at Shibuya station). We got in at a discount because
someone knew someone, and from the way it was described to me, it
sounded interesting- hip-hop and cruising for girls- but not exactly my
cup of tea.
The club atmosphere fit my expectations for an hour or two- people were
drunk and on the prowl- but the club was putting on a "Cinderella
Night," which as far as I can tell involved spotlighting up-and-coming
japanese singers and hip-hop artists. The songs were on the cliched,
poppy side, and none of the lyrics (English or Japanese) particularly
moved me, but the singers were great, had a ton of energy, and the
crowd loved them; like most live music, if the performers and audience
are into it, it's a good time no matter what the content.
Anyway, as the night went on and the interludes between performances
got longer, stuff got interesting. At first, the dj spun hip-hop, but
as more people moved onto the dance floor (especially us silly
americans), stuff got house-y, and the place started hopping. Between
dancing with my friends, watching the artists, and marveling at the
spectacle of a Japanese hip-hop joint, it was pretty amazing.
What blew my mind, though, was the last hour- I'm not sure where this
dj dug this stuff up, but he spun "No Scrubs," early Daft Punk,
Notorious BIG, about 10 minutes of Village People-sounding pop-funk,
and other retro hits I never would have expected to be known in Japan,
let alone a rap-focused club. We ended up cruising out at about 5:15
am, having danced for about 4 hours straight.
I'm not sure whether the magic was my friends, the crowd, the
particular club, or the particular event, so I'm afraid I don't have
any suggestions on where to go to have a good time in Tokyo, but I get
the feeling that this place is a pretty well-reputed hip-hop club, if
you're ever in Japan and looking for that. The name, I believe, is
"dramaqueen."
I figured it wouldn't be the best plan to bring my big camera into the
club, so unfortunately, this single cell phone shot is all I have. It
really doesn't capture the event at all.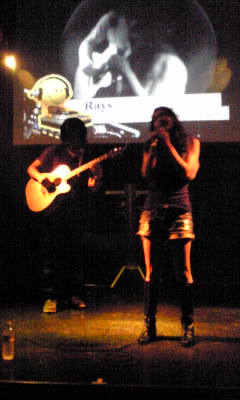 To apologize, here's the view
from my room, a beautiful sun breaking through the clouds at 6:42 AM.
I'm going to bed.