SAKK Attack:
Had an excellent visit Friday with the folks at Six Apart KK, the Tokyo branch of the blogging company I interned for last summer. Their big products, Typepad (powering this blog) and Movable Type, run most of the big blogs of the intertubes, and their little upstart Vox is a nifty successor to Livejournal. They also just launched Blogs.com, a blog mega-hub that came out of nowhere to bring the best content on the web to geeks and non-geeks alike. Interning there was amazing; there's a huge amount of drive and passion, but everyone is still down-to-earth, friendly, and hilarious. Plus, the kitchen was mad-stocked.
Six Apart KK (the KK is something along the lines of "inc") develops and sells the 6a product line in Japan. They've got a one-floor office in Akasaka, which is spelled disturbingly similarly to Asakusa (almost went to the exact wrong side of Tokyo). Friday was foobar, the semi-weekly food 'n drink event that closes out a day of work, and while the fare was slightly different than the foobar I know (more gourmet food, less gourmet- though still quite tasty- beer), the atmosphere was very much the same- people kicking back and enjoying life.
Akasaka plaza, near SAKK.
*
*
School:
Classes started last Monday, and yesterday I finished sorting out my schedule. Aside from 9 hours of Japanese a week (6 of an "Intensive Japanese" core class, 3 of electives), I'm taking *Japan's Monetary Integration into the World Economy, *and a heavily Murakami-laden comparative lit course. I'm pretty happy with the courses, but I had to audit several in which the professor really didn't know English at all (they're meant to be taught in English, just to clarify) in order to find them.
To be honest, the lecture courses are on the easy side for an American university. I'm forseeing autopilot for about twelve weeks, then maybe some business studying for exams and doing final projects. The Japanese classes, though, are absolutely killer- both the teacher's expectations, and the other students' abilities, are far above anything I ran into in the states. We'll see how this goes.
We had a study-abroad fair at Waseda on Friday, where kids were forced to pick out the minute differences between the multitude of schools with exchange programs. I, Alia, Brian White, and exchange students from years past mobbed the room; I don't think any other school had half our showing. It was great having the Japanese students to help promo; there's a difference between being able to hold a conversation in another language and being able to be a salesman.
Weather:
As you can tell by the last photoset I tossed up, we're out of both the disgusting mugginess of summer and the tween-season rain (mostly), so the weather's wonderful. Can't wait for winter; I feel weird leaving home without a coat on.
*
*
BBQ!
Nijinokai, one of the two big international clubs here, threw a pretty kicking hibachi barbeque today. People showed up in unexpected numbers, but there was food and drink aplenty, and a good time had by all.
The rainproof (mostly) BBQ site: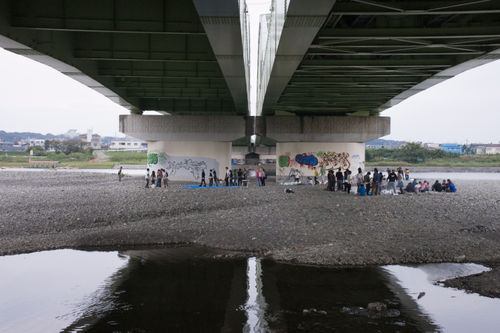 I swear it wasn't as sketchy as it looks. The riverbank seemed to be a pretty popular gathering place for a Sunday afternoon cookout.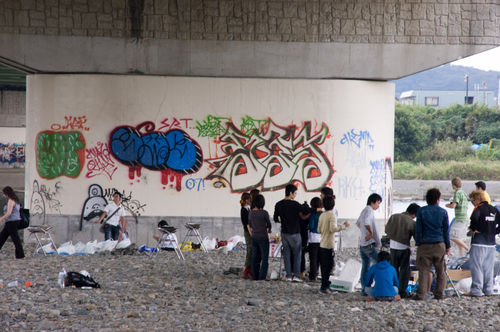 Naoya, one of the organizers of the thing, and the most hard-rocking Japanese guy I know. He's having trouble finding a job because the collective Man doesn't like his long hair.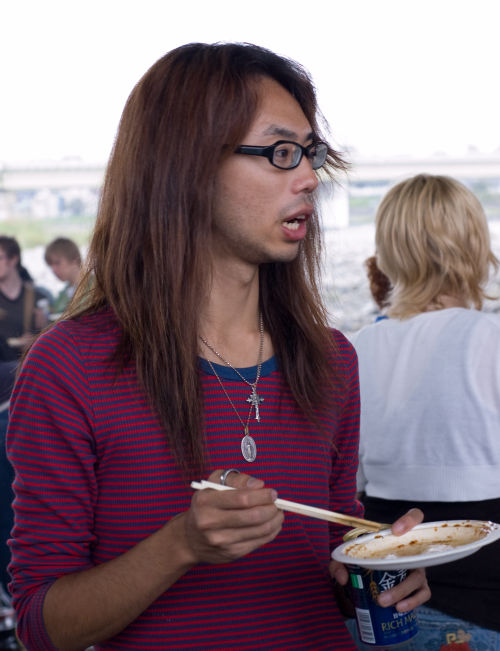 Niku! That means meat in Japanese, and it's damned tasty stuff. I showed them the art of charcoal-lighting and aeration, and we tossed food on the grill one piece after another, mostly just grabbing it with chopsticks and eating it when it looked ready. Best idea: whole salmon. We only had one, but it was amazing. We dragged it away from the flames and dug into it right on the grill, skin and all.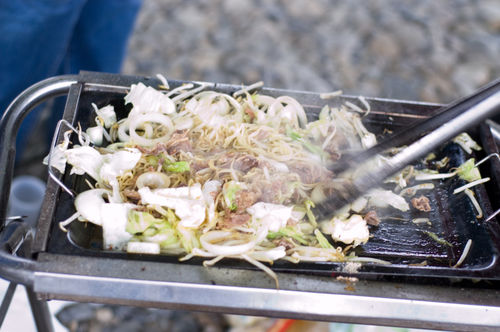 No, being outdoors at 3pm does not excuse you from forced drinking to excess. It's the Japanese way.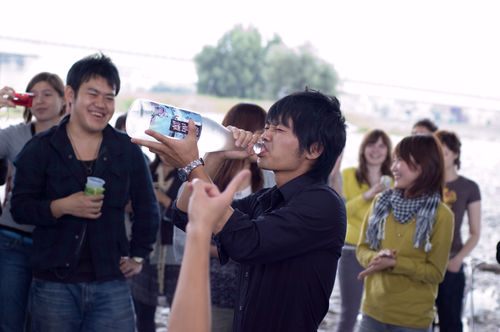 Anyway, life in Tokyo is pretty kosher. Gotta run around and pick up my foriegner registration card and a work permit tomorrow, and then probably get on all the stuff I've let slack this weekend. Cheers!