Haha, did that title grab your attention? I don't want to change genders so much as become one woman in particular. Her name is Sue, she's a consultant at a San Francisco firm called SYPartners, she presented in my Creating Values in Business course today, and her job seems very close to perfect.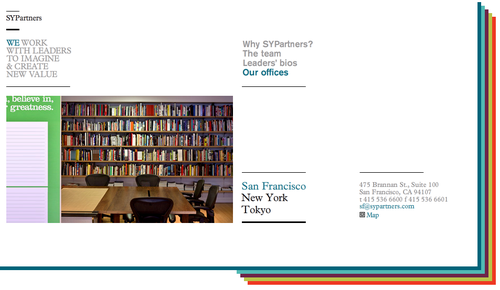 SYPartners started as a design firm, and gradually evolved into an executive consulting business. Their (very slick) website sums up their mission with brevity: "We work with leaders to imagine and create new value." They've got a bunch of cool stuff going for them, like a non-hierarchical structure, only 4 MBA's in a 60-person firm, an open office floor, and a cool team structure that pairs design-minded people with strategists. However, what really moved me was a case study Sue presented on work they did with GE financial services.
    Some VP gave a team of executives in GE Financial Services a week to figure out a strategy to reach the Hispanic market in the United States, and they came to SYPartners' San Francisco office. Rather than sit down and talk about advertising channels, marketing, or strategy, the consultants took the team to the Mission, and had them do and watch all sorts of financial transactions. They went with an undocumented immigrant to cash a check and wire money to Mexico, watching fees eat up half the money he was trying to send. They tried to do the same themselves, and watched the different treatment middle-aged white executives get. They talked to people about the frustrations they run into with the financial institutions available to them, and started to build a picture of what the market really looked like.
    Of course, then they went back to the offices and had brainstorming sessions, speakers, and the like, but I loved the approach SY took with the project (I'm a bit of a skeptic about consulting firms, but recently I've been seeing new approaches to the idea that have me rethinking my views). The idea of taking people blocked in their work, and finding creative ways of unblocking them, seems like something I could seriously get into. On top of that, Sue flies to Japan every month, and they're opening up a Tokyo office in 2009. I have no idea if living in Japan long-term is for me, but I know that I want my future to include frequent opportunities to visit.
    Creative work with brilliant people, working in SF and Tokyo, and the more-than-adequate-to-live-on compensation I hear consultants make? I'm ready to sign up. Unfortunately, most consultants I know don't graduate college and become consultants- I think the standard practice is to do excellent things in a field you're passionate about first, and then move into consulting to help other people be awesome. I don't know when or how step one is going to come about for me, but I would love to be able to work in an environment like SYPartners at some point in my future.