A 合コン, or "gokon," is a Japanese group date. My friend Anson invited me out on one, with a few classmates, his friend Mai, and a few of her friends. I've been to konpa (コンパ) before, big gender-balanced advance-reservation mixer parties, but this was my first actual gokon.
We met up at Shinjuku station, where there were some incredible light displays going on.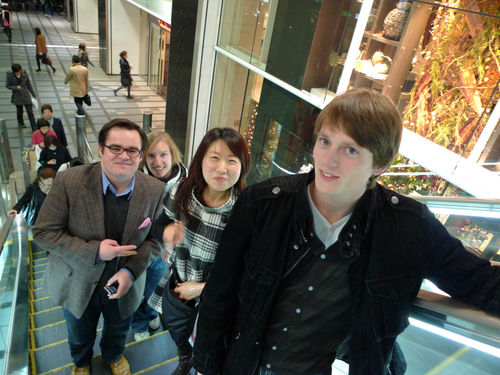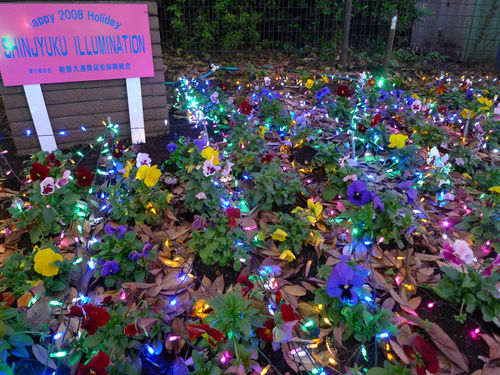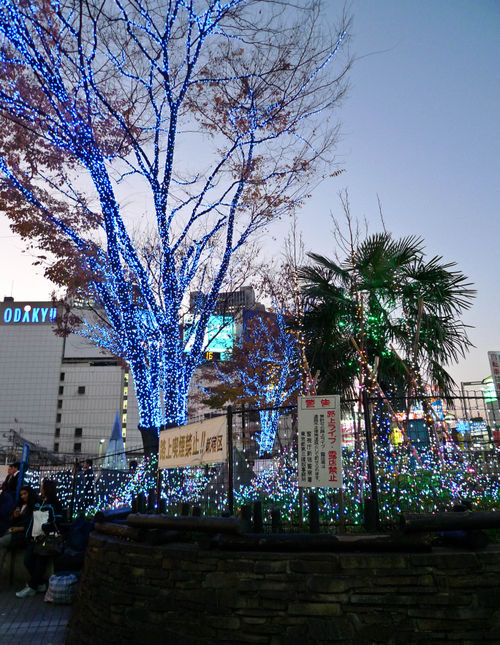 Then we went out for a light dinner at drinks at a nearby izakaya (People stand on the street trying to entice you into their izakaya's by offering discount fliers. We went with the first one we found). The food was pretty good- smoked salmon and gouda, grilled egg, pastrami, and assorted little fried things- but what shocked me was the music. They were playing jazz! Not sissy smooth jazz, not odd Japanese fusion-rock, but standards interpreted by a variety of instruments and artists, including a burning piano take of "Night in Tunisia." My friend Anson shared my joy in this, even though the girls we were with didn't quite seem to get was was so special.
    After dinner, it was karaoke time. Karaoke is something I never expected to get into; I have neither the talent nor motivation to sing in public, and the idea of expressing yourself through something you really suck at while simultaneously trying to make a good impression on a cute girl really never made sense to me. That said, I've been out to karaoke a few times, and every time has been a blast. What makes it so fun? To start with, you start at a reduced level of suckage, thanks to a backing track and reverb-heavy microphones. Second, you get to sing whatever you want- whether it's the Beatles, 50 Cent, or Britney Spears, the Japanese don't know enough about American music to judge your tastes, and on top of that, anything in English is way cool to them. Third, there's alcohol, which is scientifically proven to increase your singing ability (or at least your perception of it). It's an odd concept, and one that never appealed to me until I went, but it's great for a date, an afterparty, or to kill time when you've missed the last train home.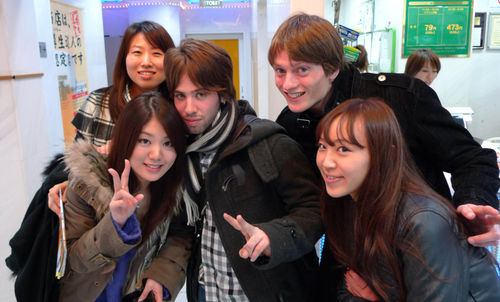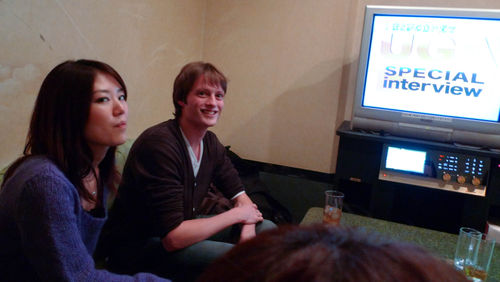 All in all, good times. No idea where stuff's going with any of the girls, but we seemed to pair off pretty well, and at least a few of us are going out to a club tonight. For now, it's off to shower, catch up on some studying, and get ready for Yahoo! Japan's end-of-year party. Cheers!