Miyuki, a girl from the Friday's gokon, had today off work, so we got together after my internship was out to celebrate. We met up at Harajuku, and had a light dinner and drinks at a little restaurant tucked below the shopping plaza right outside the subway station.
    It was a great time. Miyuki's an odd amalgram of fashionista and tomboy; she works in a Jaeger boutique and went to France to intern with a fashion house, but she also road-bikes, surfs, and (gasp!) eats apples without peeling them, all to the chagrin of her coworkers and superiors. It was refreshing to get a new perspective on Japanese society, one other than the party-line salarymen, know-it-all academics, or fresh-faced college first-years. This is a girl who likes to live a tiny bit outside the lines Japan paints for women, and catches all sorts of flak for it.
    It was really surprising to me to find a girl that not only rides a bike, but rides a road bike, and loves it. We want to go riding together, so I need to go track down some sort of cycle, and not one of those granny cruisers everyone seems to use here. Apparently road bikes can be found pretty cheap here, and I think I'll try to get one and use it for my school commute. It's about 15 kilometers (10 miles), but it seems like about half of those are on a bike path and another 2 or 3 on a big boulevard, so I'm imagining it can't take much longer than the hour-ish of the train commute. Plus, all this gourmet food and drink is fattening my belly and lightening my wallet, and a little more exercise and less train money can't hurt stuff.
    Starting off with hot "herb whiskey," a blend of Canadian Club, rosehips, hot water, a random spice or two, and honey. Delicious, if a little weak. She got the chamomile version, but we decided mine was the tastier one.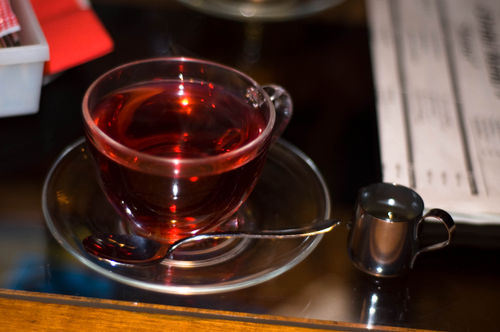 Toasting good company and a day off work. I had my SLR and a 50mm prime lens with me today, a change from the tiny little Panasonic LX3 I've been carrying around lately. I forgot how much I love the little prime! I've been spending a lot of time at 24mm, trying to get everything I can see into the frame, but there's nothing like 75mm and f/1.8 to make people pictures look really, really good. I also forgot how much better the flash is on the DSLR- I'm used to on-camera flashes totally blowing out faces at this range, but the skin tone is perfect.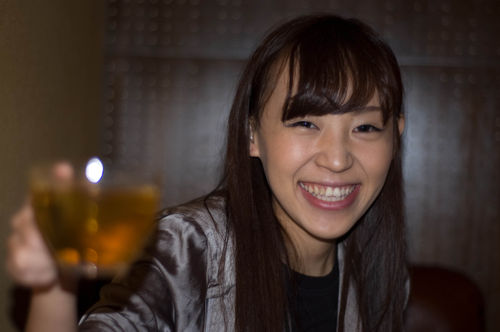 Forgot to take a picture of the food, but it was tasty- a very tender (and damned reasonably priced) steak, with a light Worcestershire glaze and bay leaves and parmesan on the side, then espresso over ice cream for dessert. This might have been the best price/quality/ambiance ratio I've run into yet here; dinner, drinks, and dessert for two (in a very cool little comfy-chair, low-table booth) just crossed 5000 yen.
Next, it was on to stroll Harajuku and Omote-Sando, which are both lit up beautifully for the holidays.
Gucci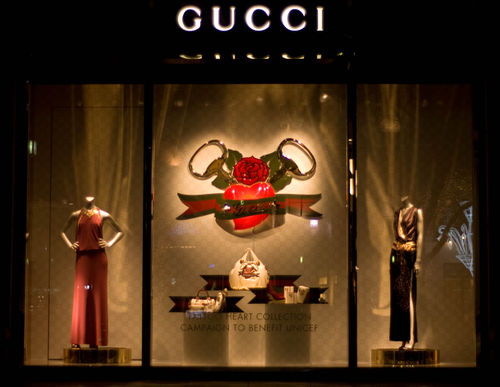 Christmas tree in Harajuku. Once we got outside, I wished I had brought the other camera, too: with a 24mm f/2 wide-angle and a good 3-4 stops worth of vibration reduction, handheld nighttime shots of buildings and landscapes are a pinch.  I think the combination of the two (75mm effective prime for people, 24-60mm zoom for everything else) basically covers all your bases. The Panasonic is f/2.8 and 60mm and the tele end, which isn't the worst for portraits, but also isn't near as fast or sharp as a 50mm prime.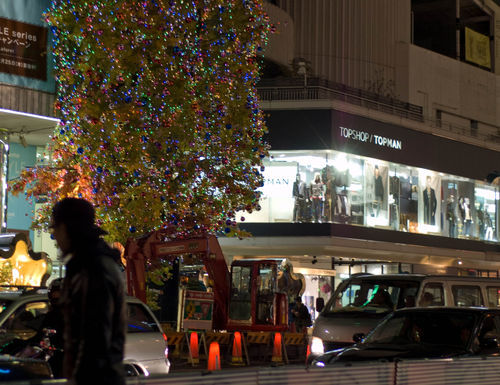 Some sort of VIP buying some sort of expensive designer thing. As soon as I took out my camera, a guy asked me not to take pictures, but once he turned away, I popped off a quick shot, and luckily it came out great. If you want to shop discreetly, why are you doing it in a brightly lit room separated from a sidewalk by a wall of glass? Plus, the guy asking me not to photograph them wasn't even a security guard, much less a cop; he was a middle-aged, plain-clothed, and not the least bit intimidating. 撮らない訳はなかった (Japanese for "there was no reason not to take a picture").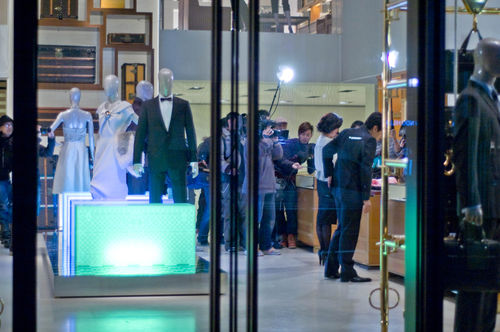 Strolling past Commes de Garcons, one of the many beautifully-designed, overpriced fashion houses in the area.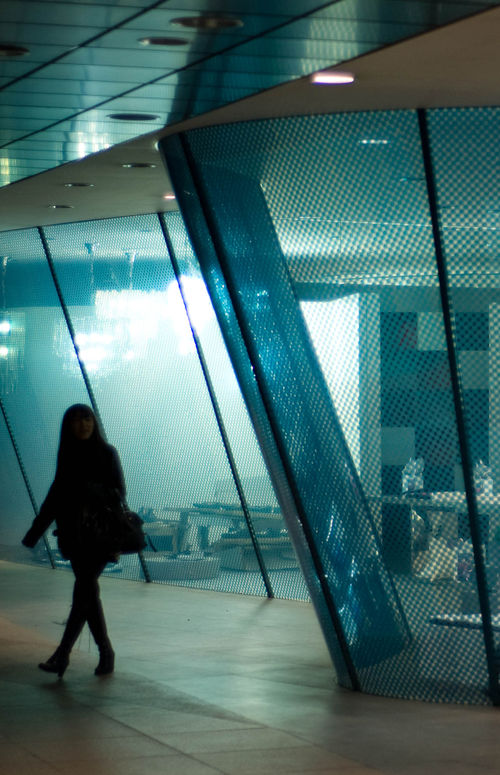 After we reached the end of the strip, there was still some time before last train, so we decided to go for coffee. We found a cool little restaurant with a terrace overlooking the strip (we both seem to share a scoffed-at-by-others love of outdoor dining, and ended up being the only ones outside), and the staff lit up a heater and brought out some blankets for us.
In America, if a small cup of black coffee is $2.50, that better be the best cup of coffee you've ever had in your life. Not so in Japan, where Starbucks starts at around there and climbs rapidly. I'm used to paying $2-4 for a cup of coffee, but this was my first time with nonalcoholic drink prices this high. Naturally, we wanted to know what MARUYAMA coffee was and what made it $1 more than regular, and naturally, the waitress' vague answer made us order a cup to try it. We also got a cup of regular and a plate of tiny cookies.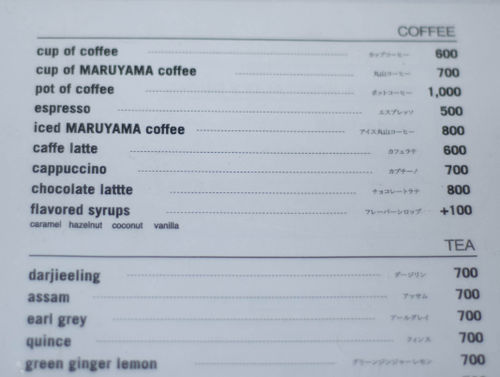 The Maruyama coffee came in a press, and on pouring it into the cup, the first thing I noticed was the very light color. This is partly because, I'm imagining, the Maruyama guys don't scorch their beans like Peet's or Starbucks, but I also think they made it a little on the weak side. That said, it was damned good coffee- I was proud of myself for guessing African or Indonesian beans, and confirming it later on the interwebs. It was smooth as hell, but earthy for how thin it was, and had some nice little chocolate and berry notes going on. It took awhile of tasting different blends and comparing them with scent oils (mostly during my either bored or sleepy downtime at Starbucks) to get my coffee palate sorted out, but it's stuck with me pretty well. Would I pay $7 for this coffee again? Hell no- it was good, all right, but it didn't hold a candle to anything at San Francisco's Philz, the standard-bearer of superior black coffee.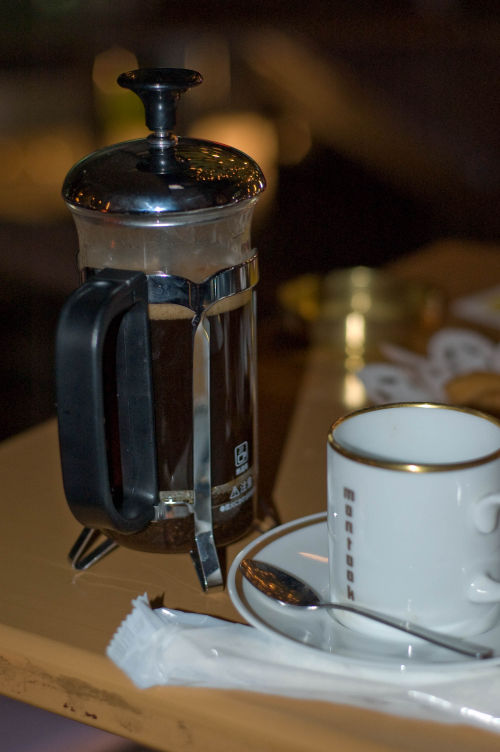 I don't care if there's a $7 cup of coffee on your menu, the $6 cup should still taste great. Not so in this case; it was drinkable, but only barely. I don't know if it was overbrewed or just made with old or scorched beans, but we both found it really disappointing.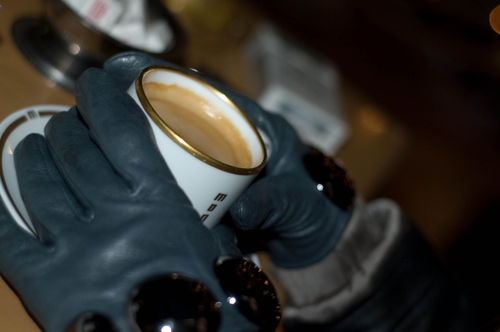 On the other hand, the tiny cookies were excellent. Eat a truffle, and your world turns to chocolate as it melts in your mouth, completely enveloping you. Miyuki had to tap me to see if I was still alive.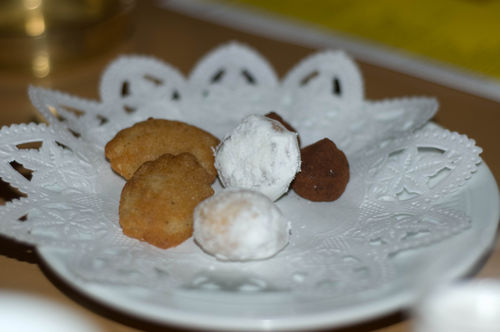 Oh my god, tiny, tiny Madelines!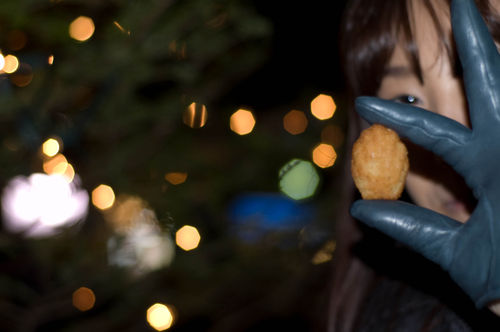 The high price of the coffee starts to become a little justifiable if you think of it as a fee for the ambiance, service, and location. I'm not saying it's not ridiculous, but I might come here again on a special occasion- the heater, blankets, festively lit street, and cute company made for a savory experience. We headed out to the subway station, where she caught the Ginza and I caught the Hanzomon. I barely understand the opposite sex in my own country, let alone an alien society like Japan, but I've found that taking dates as nothing more and nothing less than pleasant evenings getting to know another person works out for the better. That said, I wouldn't mind seeing this girl again- I'd never met a road-biking Japanese surfer girl before, but I think I'm pretty sold.
Update: Going on a picnic tomorrow!
Since I already had the big DSLR with me, I took some pictures in the station while I was waiting for the last train. I've been getting back into black and white more recently, especially doing conversions from color while adjusting the gain on each color channel. It gives you a lot more play than a single contrast slider or curves adjustment.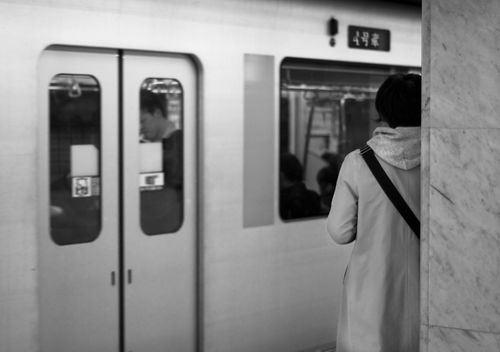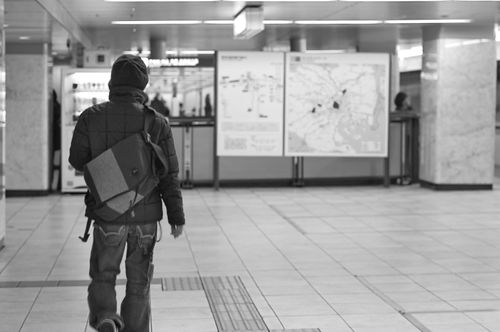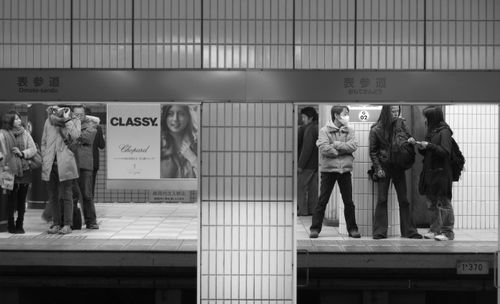 Full photo set, as usual, on Flickr.