If I had half the luck I had with guys, I'd be rolling in feminine affection.
So far I have:
I got treated to a stupid-expensive meal today, due only to the fact that I go out when I get invited, have fun, and talk to everyone I can. If you're 留学生ing in Tokyo and spending your time hanging out with other exchange students, seeing then same people in the same Izakaya's, cut it out, go meet some Japanese people, and make the most of your time here. You're not in Japan to hang out with westerners. They're wonderful, they're great for sharing experiences, but you've only got a little time here, so give it up. You can hang out with 外国人 any time you'd like, but you only get to hang out with 日本人 for a few short months.
Have fun, y'all- this break is what you make of it. As for me, it's a few nights of dating, drinking, sleeping, and networking, then a trip out to Nagoya to see Sandy, a girl from my home college that invited me out to my family's place for the holidays. Merry Jesus-day, happy hanukkah, and a festive pagan solstice to all.
Posing for a picture below the staircase.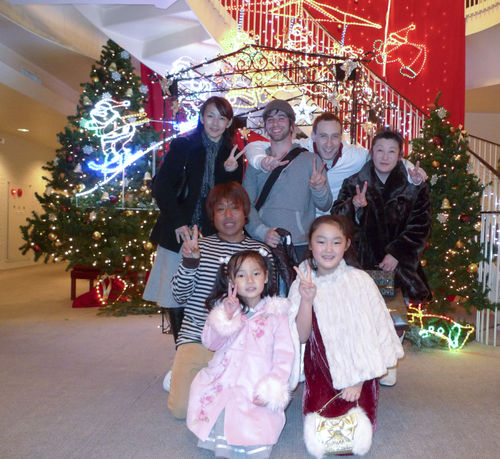 Admiring the kids' beautifully-sculpted sugar santas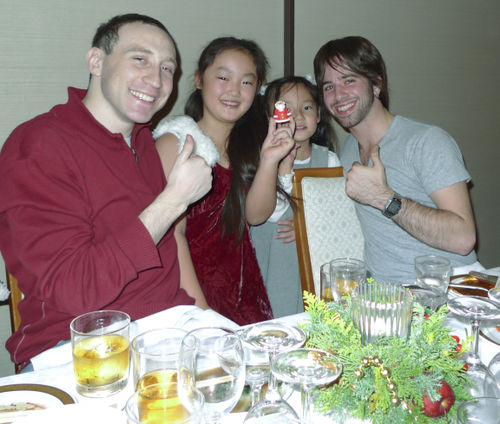 Sam insisted I pose by the chef, and insisted the chef try to smile. I think he's giving it a damned good amount of effort there.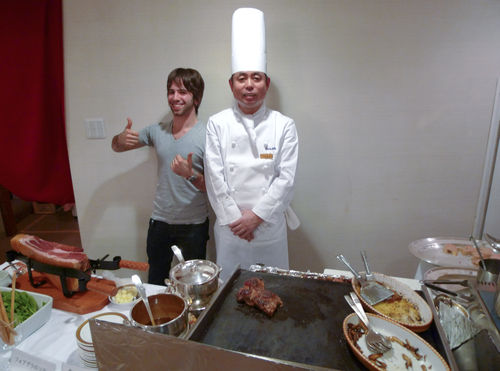 An accordian player? Really? He was damned good, too. Not shown: the hot tenor saxophone-playing J-girl.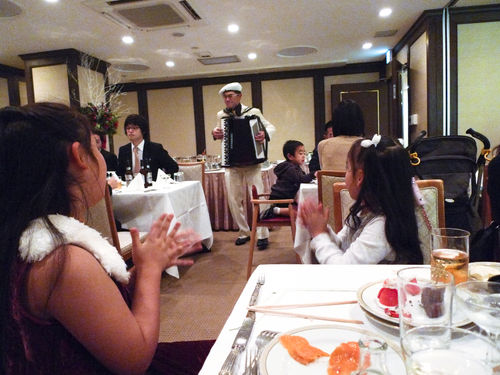 I'm so glad I went out- it was a last-minute decision, and had I not hopped off the Hanzomon line, I would have spent the night at home.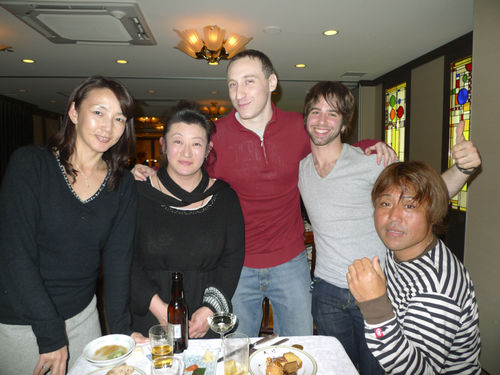 Ok, actually getting to today's event wasn't due to me- it was Sam, the awesome front-and-center Jew in the above picture, that hooked me up with these guys and their crazy holiday party. That said, I feel (and know) like these sorts of opportunities are all around- I came to this knowing practically nobody, and three months in, I have enough contacts to bury me in clubs, alcohol, jobs (mebbe less of a bury and more of a lightly sprinkle), and general recreation. For a foriegner in Tokyo, life is about one choice: are you going to have fun, or not? If you set your mind to it, you can meet new people every night, keep up your grades, and grab silly discounts everywhere you go. Most people love foriegners, and if the people you're with don't, meet some new people. This country is what you make it- go out and make it great.