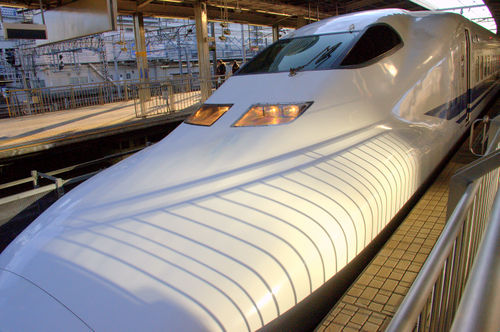 The Shinkansen is the coolest form of transport in the world. It's Japan's high-speed rail system, and it makes getting around this country a snap. I just took it out to Nagoya to see my friend Sandy, and I never want to get on a plane again. 
On paper, it doesn't sound that nifty. The trains run under 200mph, and take about twice the time a modern airplane would to traverse most distances. What makes the shinkansen so great, though, is how simple, fast, and easy it is to ride.
Taking an American plane:
1) Research lowest fare on the internet.
2) Show up at the airport an hour to two hours early.
3) Roll eyes through security theater and stupid safety announcements, obey a little seatbelt sign above your head, refrain from talking for fear you'll be tackled by federal marshals, and gag on barely-edible food.
4) Get off and spend half an hour waiting/looking for your luggage.
Taking a Shinkansen:
1) Buy a ticket at any train station, anywhere. Tell them when you want to go, or buy a ticket you can use anytime, for any free seat on the train. No name, no problems changing the reservation- heck, you can even use your subway card to buy it. Want to get on in ten minutes? If your legs are fast enough to make it through the gate, that's perfectly fine.
2) Get on the train.
3) Get off the train once it gets where you're going, which tends to be a subway station ready to whisk you off to your next destination.
The seats are huge, the scenery's great, the food is tasty and pretty cheap, and the train looks like a spaceship, but what makes the Shinkansen so spectacular is how normal it is. It may be fast, but it pulls into a train station just like any other train, stops for under a minute, and pulls away. Since there aren't any security lines, no one has any excuse for missing their train, and if they do, they can just hop the next one.
Why don't we have the Shinkansen in America? The easiest reason is that we're stupid. There are a lot of places where a high-speed rail would save everybody time and money, and help the environment in the process. Cross-country travel makes for diminishing returns, but for coastal transport (Amtrak's Acela between Boston and New York is doing great) it's perfect.
The larger reason, though, is how amazing Japan is at managing its infrastructure and economy. Ever since the mid-19th century, Japan's government has engineered business cartels, high savings rates, and laws and standards that put the country's interest first. This lets them leverage a large savings pool and a docile populace to accomplish huge feats of modernization in a pretty short amount of time. California's high-speed rail project is held back by all sorts of private property, financing, and political disputes, whereas Japan just decides it's going to build something, and expects everyone to do what needs to be done to make it happen. Property owners get the money the government decides they get, contractors get subsidies to do the work the government wants, and the public need gets served. Is it democratic? Nope. Never was, never will be, but at least the train system works.