Small, Light, and Cheap: Falling in Love with Netbooks
Up until now, I've been working on a 17" Macbook Pro laptop. It's a great computer, and I love the big screen and keyboard, but it's really too big to big and heavy to carry anywhere.
I was interested in a netbook, a new breed of cheap, small, low-powered laptops, so-called because they don't have enough power to do much else than word processing and internet browsing. Honestly, though, what else do you need in life? The only programs I run that need a half-decent machine are Photoshop and Lightroom, and I don't have much of a need for that while I'm at school or on the go.
It took netbooks a while to evolve into something that appealed to me, though. While the combination of small and cheap appeals to me, until lately, "small" also applied to the machines' keyboards and screens. Staring at an 8.9" screen all day and typing on a miniscule keyboard doesn't really appeal to me. On top of that, the first netbooks, like the Asus Eee PC, look like plastic-y, easily breakable toys.
In the last year, though, MSI, Dell, HP, Asus, and Samsung have started to roll out more mature laptops, with 10-12" screens, nearly full-sized keyboards, and more solid, professional-looking builds. Here's my quick take on the current big players in the 10-inch-plus netbook market:
I ended up settling on the Samsung NC10, mainly because it looked like a good all-around model with great battery life. To be honest, though, all the newest books on the market are pretty darned similar, and if there's one little feature that strikes your fancy, you can rest assured you're probably not missing out on much by just going ahead and basing your decision on that.
This is a great little laptop. The keyboard is big and solid, the screen is easy to read, and can get eye-hurtingly bright at it's highest setting, and it's small enough that I can type this post out on a crowded subway car without getting elbowed by the guys sitting next to me.
Speaking of small: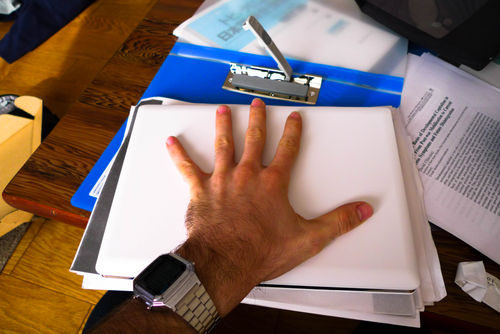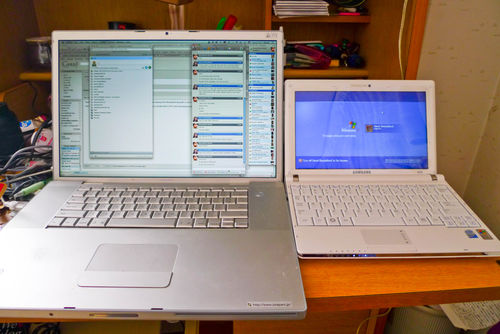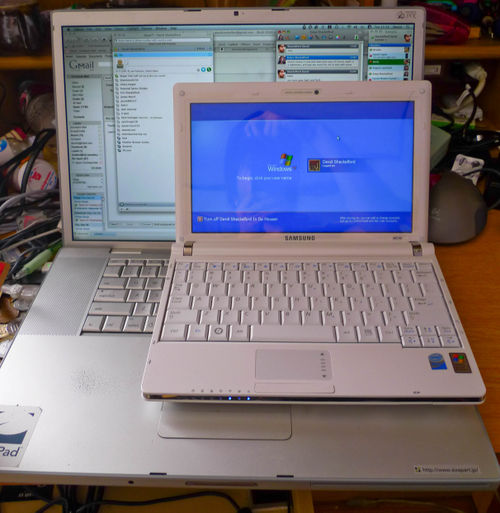 It's completely dwarfed by my MacBook Pro, and under half the weight (2.8lb vs. 6 or 7). I can slip it in the smallest bag; it's about the size of a large-ish paperback.
I eventually want to run Mac OS X on it, but I'm waiting till the guys at InsanelyMac (a community built around running OS X on non-apple hardware) perfect the install guide. That said, this thing runs Windows XP real zippy, and thanks to a few nifty free pieces of software, I've adjusted XP to add several functions that make it a little more like Mac OS, and a lot less sucky. It also runs my favorite chat client ever, Digsby, the only windows program I like better than its Mac alternative.
If a netbook interests you, there are three sites worth checking out:
LaptopMag, a great portal for all sorts of laptop reviews and roundups.
Lilliputing (Lilliput + Computing = cute!), a blog devoted wholly to netbooks.
InsanelyMac, a community of awesome hackers dedicated to running Mac OS X, the best operating system ever, on all sorts of non-apple hardware.