Or one stormtrooper, rather. Danny Choo is an anime-figurine-crazy, Asian net superstar who likes dancing publicly in stormtrooper armor. He threw a great little get-together at Cafe Fiat in tonight, with all sorts of people from the biggest blogs and social media companies in Japan. Got to:
Put a bunch of names and faces with twitter handles. It's weird to have someone you've been talking to on the Internet suddenly turn into flesh and blood, that can respond to you in real time and talk in more than 140 characters. Hey, 1rick and kenleewrites!
Meet a guy starting at Six Apart next month. He's going to be in our marketing department at SAKK, and was adorably happy to know someone working there.
Chat a little with the stormtrooper himself
Talk with a bunch of people really building value in spite of the crashing financial world. The web industry feels the crunch, too, but it seems to be the only place innovation can actually flourish with a down economy.
Take home a fat stack of meishi that I now need to sit down and process…ugh
All in all, way fun times, and the guys at Fiat cut us a great deal on food and drink. Follow Danny Choo's blog if you want to know when the next one's happening, or email me and I'll let you know.
The man himself practicing his intro before the doors open. I had never heard of him before a week or two ago, but I didn't expect the British accent at all.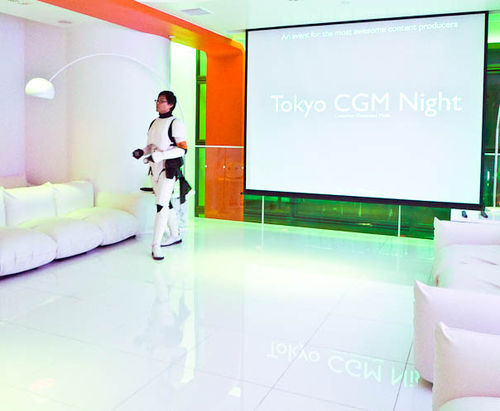 Plo Broggers + Top YouTubers. The presentation was short and sweet: basically, "I done got a whole lot of cool people together here. Look at how cool they are. Now go mingle!"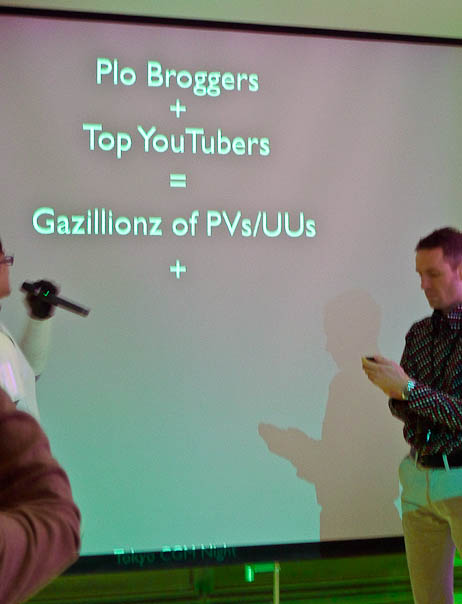 It was really a packed room.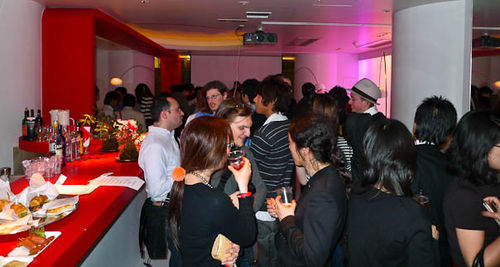 The sheepishly-grinning guy is clutching a limited-edition Ironman figurine he won.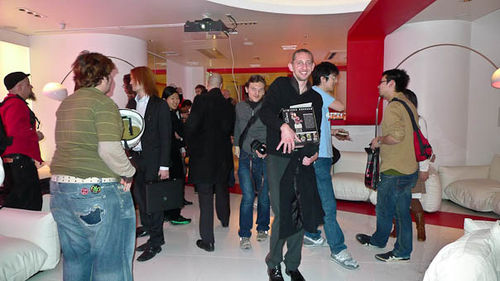 Busting a move. Should have used video instead, because this guy was at least as good as Danny at the whole booty-shaking-stormtrooper thing.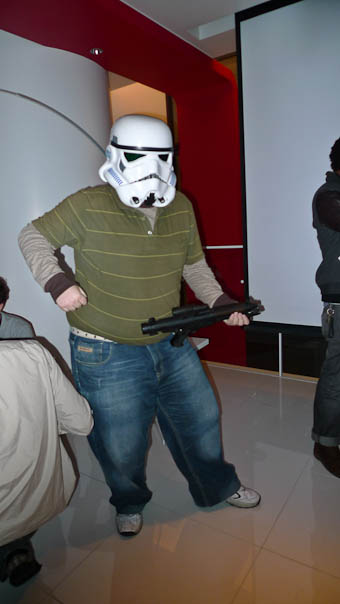 Um, yeah. This is how I roll. What? 1rick, Danny Choo, and yours truly.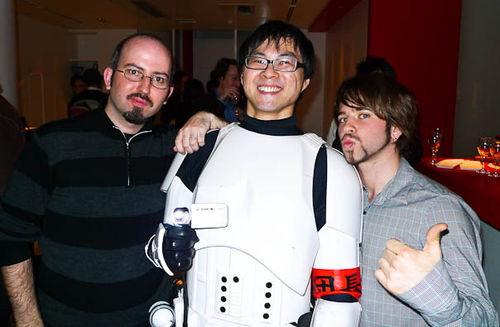 Full flickr photoset here. If you're into photos, there are more here and here.
This next week has two more cool events, for you bilingual Tokyo-based web hipsters (you know who you are…hell, I basically know who you all are at this point):
I think I'll be missing out this week, due to an English lesson (+$$$ yay!) and snowboarding (-$$$ yay!) but hope to catch you all at another one!
Update: Thank-you letter from Danny:
Dear comrades!
Thank you so much for a most Bodacious Harmonious and Awesome evening!
We had well over 100+ Plo Broggers, top YouTubers, Web/Industry/Creative n Media folks attend the second Tokyo
CGM
Night
hosted by Andrew Shuttleworth and Danny Choo.
For those who couldn't make it, you shall know that Kotobukiya and Google gave out goodies worth billions of yen, new harmonious friendships/business partnerships were born and small moons orbiting the 3rd sector of the Karnopsydon galaxy were saved from destruction.
We look forward to seeing you at Tokyo
CGM
Night
Season 1 Episode 3 in March – will release details soon.
Andrew and I would also like to apologize for irresponsibly throwing the Google pens into the crowd and have promised to punch each other in the gut as punishment. But a good thing they were not Google knives…
If you have any feedback then please send them to Andrew and I – this is an event for you and want to make sure that we cater for your needs as much as possible.
If you took photos, video clips or brogged about the event, please send me your rinks and I will do a write up and send folks over to see your stuff. If you are going to brog about the event, please mention Andrew (
http://hq.andrewshuttleworth.com/
) and Danny (
http://dannychoo.com
) as the organizers of the event.
For now you can see some emerging coverage below.
-
http://asia.cnet.com/blogs/tokyo-shift/post.htm?id=63008815
(CNET! Wooooo!)
–
http://www.vimeo.com/3113734
–
http://www.flickr.com/photos/lenard/
–
http://www.kenleewrites.com/2009/02/tokyo-

cgm

-

night

.html
-
http://shack.typepad.com/shack_in_japan/2009/02/social-media-and-stormtroopers.html
–
http://www.flickr.com/photos/lenard/sets/72157613420255937/
-
http://ameblo.jp/hfo/entry-10204119830.html
–
http://www.thewesternworld.net/2009/02/just-got-back-from-the-tokyo-

cgm

-

night

-sponsored-by-danny-choo-and-andrew-shuttleworth-was-a-great-

night

-met-lots-of-very-c.html
–
http://www.flickr.com/photos/53353424@N00/sets/72157613435400110/
-
http://www.flickr.com/photos/sfj/archives/date-posted/2009/02/07/