A hanko is a stamp with your name on it that you use to endorse all sorts of official documents. It's kind of like a signature, but worse, because somebody can beat you up, take it from you, and pretend to be you. It doesn't help that they never check ID for anything here. I had to get a hanko to open a bank account, and got to choose between using one with a Japanese name (huh?) and making a name up. シャックルフォールド, the transliteration of "Shackelford," didn't quite fit on the stamp's tiny head, so I went with シャック (pronounced "shakku"). Whenever I do something more complicated than withdrawing money, they have me stamp tiny, random circles on various pieces of paper, which I suppose proves that I'm me. Man, identity thieves would have a field day in this happy-go-lucky country.
Hanko for sale on display in Shinjuku: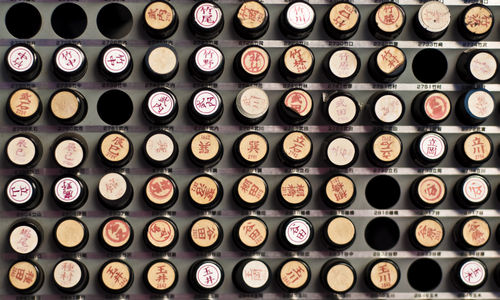 Update:Andrew Havill of Google Japan got inspired to write a much better post than this one on Hanko. Go check it out!