Jason Dearborn, Six Apart's network ninja, came out to SAKK last week to help us out with flipping the whole network infrastructure over. I helped him out Saturday, took him for a total gaijin tour of the town afterwards, and then popped in Monday for a little more work and some yakiniku.
I love me some Yakiniku! Seeing a huge plate of tender, boneless cow come up and grilling it right on the table is a prime experience.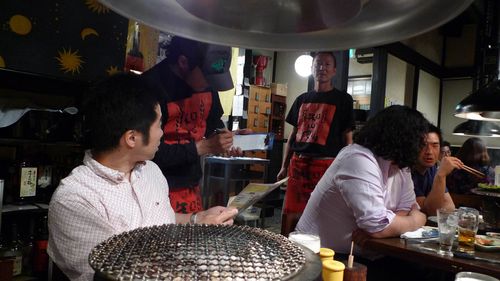 This was the first plate to come out. It's got some stuff I'm not really used to eating, like heart, liver, and stomach- it took a while to figure out what the parts actually were, because the Japanese for cows' body parts is different than that of people. The heart was pretty good, the stomach was pretty bad, and the rest was in the middle. This plate was seasoned with salt and pepper, and we dipped it in lemon juice.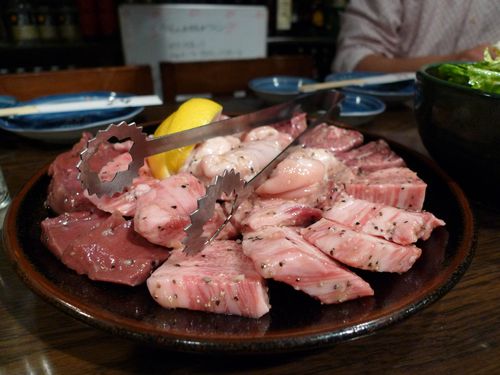 The "Epicwin" plate, by which I mean nothing but normal, tender, boneless, marbled beef. I wanted to eat ten of these (we actually ended up ordering another later, which was a great plan). This plate produced one of the best, if not the best, beef experiences of my life, partly owing to the excellent bbq tare (sauce).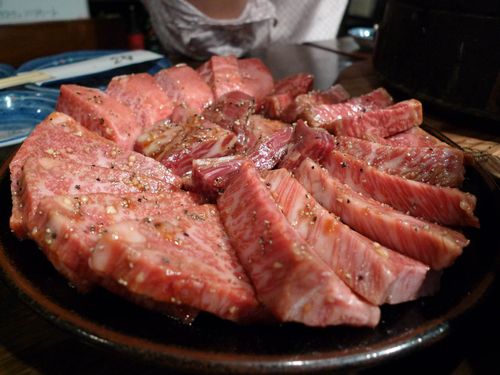 Not shown: the Failplate, a collection of the stringiest, more internal organ-y pieces of dead cow I've ever seen. I didn't bother learning all the names, but every one of them was part of some bodily system or another.
Grilling! It smelled so good.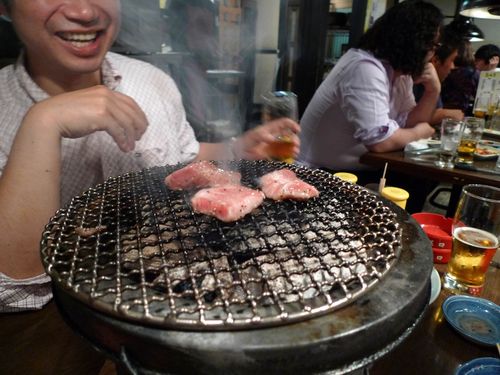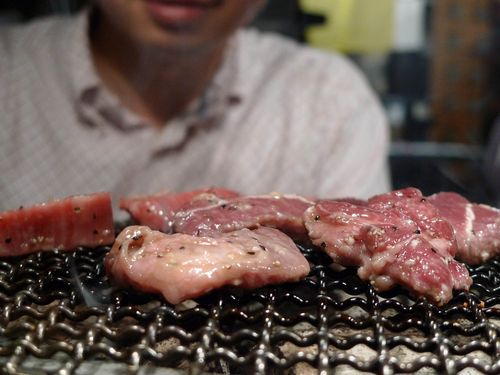 Of course, more important than the meat is the company, and you can't get much better than the SAKK IT team and Six Apart's resident network ninja. Jason flew all the way from San Francisco to help us flip the network around, and he and I had a great gaijin night on the town Saturday (hint: click "play backwards" in "options" for the slideshow to make chronological sense).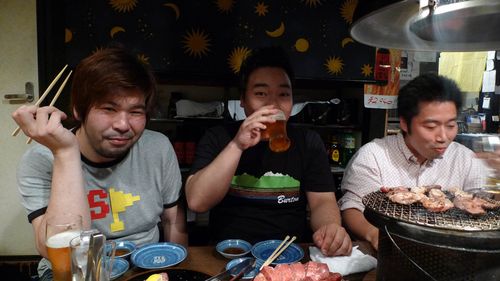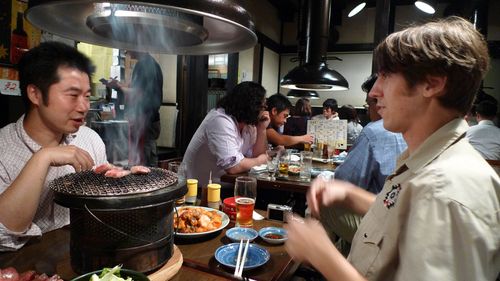 More, and bigger, pictures live over at my Flickr.
Other news in bullets:
I went to a totally lame Myspace Happyokai (presentation party) with my friend Dominic yesterday.
My little sister is on twitter and blip.fm. Her username is "petiteshack," which amuses me to no end.
It's been eight months! I can't believe it. We're celebrating like we do every month, with an all-exchange-student (what else?) drinking party.
I found a firefox extension that blocks facebook, twitter, google reader, and all the other sites that suck my time away. I'm so much more productive now.
I'll be starting a really cool job next week. More details later.
I'm head over heels in love with markdown.
Time for bed! The future is bright.
P.S. if you don't have the money or time for real yakiniku, try the virtual alternative (thanks, yojimbo!)