What is a host? He's a charismatic guy who gets paid by the hour to talk to and drink with women. I find their whole getup pretty funny- skinny suits with lots of jewelry, hair that must take hours to tease up, and a lot of them have faces that strike me as much more young and effeminate than you'd want in a pick-up artist. They're a fact of life, though, and if they weren't bringing in the bills, you wouldn't see so damn many of them around Kabukicho.
I'm sure there's a better term out there for hosts, but "male geisha" fits them better than "man-whore." After all, these men aren't paid for sex as much as they are for image and company. Obvious a host's life is far removed from that of an actual Geisha, but the idea of an entertainer with a well-honed set of particular skills who entertains guests-one-on-one for an evening is similar, no? (someone's going to rip me a new one for this analogy, I'm sure)
(The sign on the storefront says "Women-Only Club," or "Club for the Exclusive Use of Women")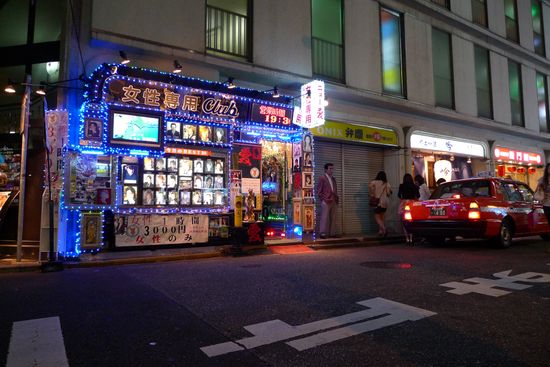 It appears that this guy is the "Top Dandy."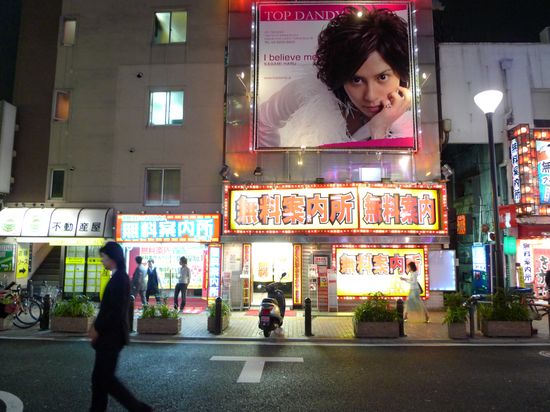 Host clubs advertise all the men inside on big billboards; once they enter, women choose their companion from a menu.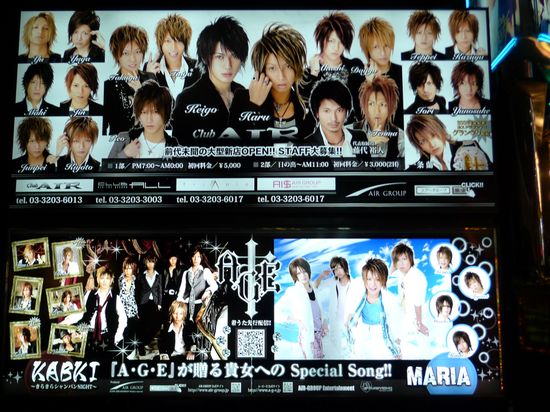 A few hosts I met in Osaka. Talking to them, they don't have much of an air at all- it's a job to them, and I'm just a guy unrelated to their work. When they actually go into action, though, they're intense- they'll walk up to any girl that looks like she has a few bucks, and motormouth her with questions, trying to find some commonality or emotional connection. These particular ones weren't too good, at least from what I saw- they didn't manage to bring a single girl back to their club.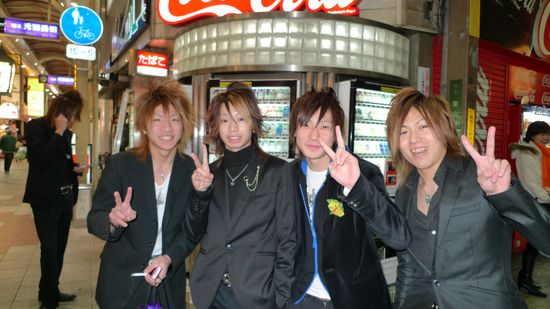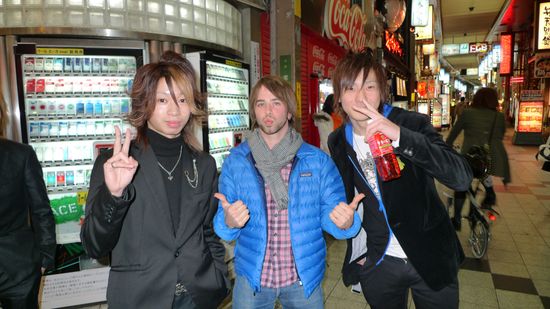 The worst hosts barely pull in minimum wage; the best are paid like CEO's. It may sound like a dream job, but it's a dusk-to-dawn marathon of binge drinking and emotional manipulation, and I wouldn't be surprised if many of the clubs out there have ties to less-than-savory characters. If this culture is at all interesting, I really recommend watching The Great Happiness Space: Tales of an Osaka Love Thief. If you have Netflix, you can instant-watch it, but otherwise, it's available at most video stores or part-by-part, for free, on YouTube. It starts out by drawing you into a magical world where men get paid silly amounts of money to flirt with cute girls, and then brings reality crashing down on the whole thing. It's nothing but well-cut, well-shot interviews with hosts and their clients, and the world-exclusive look at a fairly underground subculture has gotten it quite a few awards.