Due to a few New York Times articles and the release of the bestselling Born to Run, barefoot running has recently gotten a lot more popular. Studies have shown that the heel-striking step produced by modern running shoes is an inefficient, injury-prone way to run, and that barefoot running, or running in unpadded, unstructured footwear, reduces injuries, strengthens legs, and brings us closer to the stride our bodies evolved to use.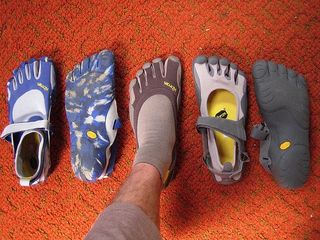 Companies are fast to turn scientific discovery into marketable product, hence the release of the Vibram Five Fingers (VFF). These five-toed shoes feature a thin, unstructured (but durable and grippy) sole, and aim to recreate the experience of barefoot walking and running while protecting feet from the hazards of modern society.
The VFF's have a few issues, though. For starters, they're ugggly (my girlfriend put a lifetime veto on them once she saw this post). Recent releases like the Moc are a little more low-profile, but wearing these guys is asking for attention, and I doubt you can get away with it in most business settings. Second, they're expensive, starting at $60 and climbing over $100 for the higher-end models. That much for a shoe meant to approximate not wearing any shoes? Hikers may enjoy the grippy vibram sole, but most will find these too expensive or out-there for everyday wear.
I like the idea of barefoot running, so I thought I'd do a little research on more practical alternatives to the Vibram Five Fingers: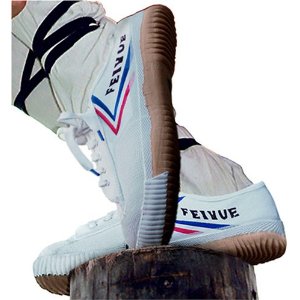 I love these! Like every Western innovation, it seems the Chinese had it first. These martial-arts shoes have a simple, unpadded rubber sole and an unassuming canvas upper. In white or black, they look like generic sneakers, perfect for wearing with jeans, shorts, or whatever. The sole isn't quite as flexible as I'd hoped, but it's not bad, and the lack of a heel is a big part of encouraging good running form. The best part? The unbeatable price of $14.95 on Amazon. Cheaper than Chucks!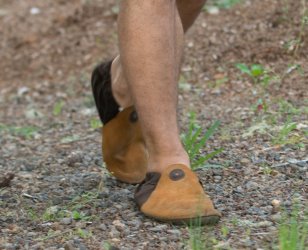 These handmade, unconstructed moccasins run $60-85, and feature natural
materials and a thin, unpadded sole. The styling is interesting; I can
see them looking good with jeans in a sort of earthy, rugged way, but
they also might come across as a little too whimsical and elfish for
more modern styling or in formal settings. Update: Looks like they also have a perforated-leather athletic version on the way.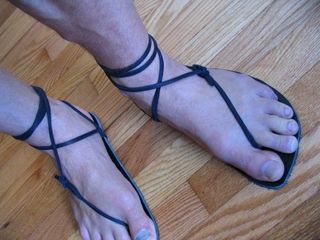 A modern version of the running sandals worn by the Tarahumara tribe featured in Born to Run, Huaraches are simply constructed from a thin 3mm Vibram sole and a single leather or synthetic lace. With one of the more subtle lace options, they really look no different from other sandals, but you get a thinner sole and more secure fastening than flip-flops or chacos. At $20-25 for a DIY kit or $50-60 for custom-made shoes, they're available from InvisibleShoe.com and Barefoot Ted.
4) Karate Shoes / Ballet Flats

Amazon and other online retailers offer a variety of flat-soled shoes for dance and martial arts. They lack the grippy, rugged sole of dedicated barefooting shoes, but should work fine for indoor use. If you're really into them, it probably wouldn't be hard to glue some 3mm Vibram Cherry on the bottom and use them everywhere. You can find these as low as $7, so they're a great budget buy.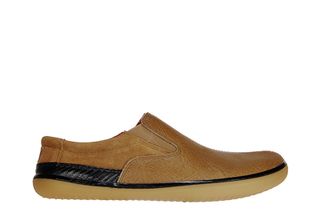 These are the shoes I've been waiting for. Casual to business-casual styling, thin, unpadded soles, and high-quality construction should let you wear these from the office to the park with healthy feet and without attracting unwanted attention. The only downside is the price: with most models running $120-150, these are pretty luxe for such simple shoes. Maybe once I'm rolling in cash money, but it still seems like a silly amount to pay for minimalism.
6) Kigo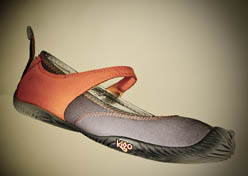 This recent entry into the barefoot market produces two models: the unisex Shel, and the female Mary Jane-esque Star. Consensus seems to be that they're not as flexible as other barefoot shoes, but their portability and cute, discreet style makes up for it. They're also at the lower end of barefoot shoes, priced at $49 retail.
7) Feelmax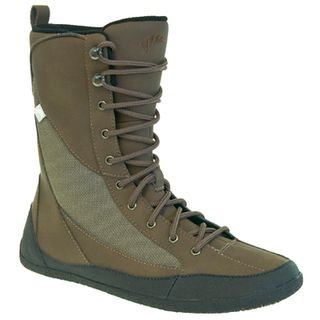 Lightweight, thin-soled shoes from Finland with minimalist sneaker
styling. The sole is supposedly one of the thinnest around, which provides great groundfeel but might compromise durability. Around $80, plus shipping from Europe. One unique aspect to the company is their Kuuva boot, the only men's barefooting boot I've seen.
8) Nike Free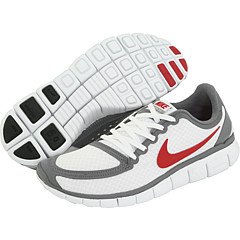 Nike
actually got into the barefoot simulation game before Vibram, with the
first Free in 2006. They've got a slightly higher heel than most
barefoot shoes, but I've heard it's gotten lower in the newer
generations, and the sole is really flexible. They look a lot like
other Nike running shoes, and come in standard athletic colors as well
as a few subdued colorways for casual wear. $85 retail, though you can
find past seasons for significantly less.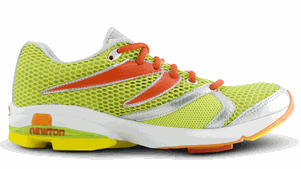 Possibly the worst barefoot shoes ever: $175 for no more functionality, style, or practicality than other offerings that cost half as much. The company claims the shoes have a patented design that "minimizes detrimental heel-striking, promotes forefoot striking, increases speed, and prevents injury with some runners." Funny thing is, that sounds exactly like what you get from a basic thin, unpadded sole…or no shoes at all. Reviews at Gear Junkie and The Running Ninja.
10) Chucks / Vans / Keds / Adidas Sambas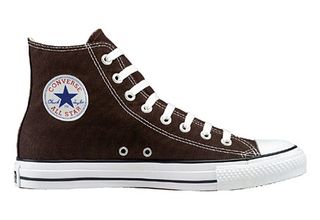 Old-school sneakers have thicker, stiffer soles than dedicated barefooting shoes, but they tend to have lower heels and less padding than more "anatomical" shoes, and should be better for your joints. Plus, they're cheap, come in a million different styles and colors, and won't stand out on the street. (Thanks for the Samba tip, funhouser)
11) Toms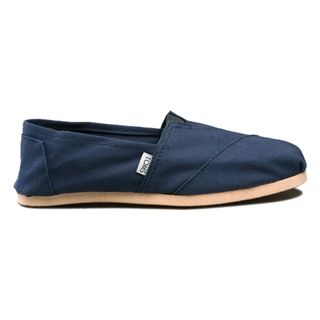 Thinner-soled, trendier keds, essentially. They're pricey for basic sneakers ($45+), but for every pair you buy, they give one to a child in need. Cool!
12) Bare feet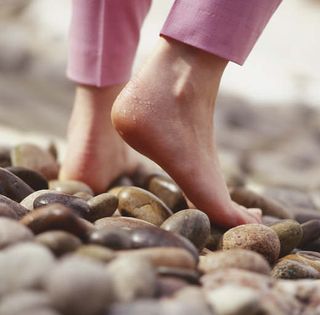 The oldest, cheapest, and simplest footwear out there. There's a large community of lifestyle barefooters out there, and they'll tell you it's possible to run, hike, navigate most social situations, and live comfortably with nothing on your feet. I wouldn't try it at the workplace or the winter months, but I love running outdoors unshod. Your legs get stronger, blisters are an impossibility, and you develop a wonderful feel for the ground.
13) Inov-8

Looks like these are a lighter version of Nike Free. With 29 different models for both trail and urban running, and prices down into the $50-60 range, this might be a company to watch. Thanks for the tip, wesleet!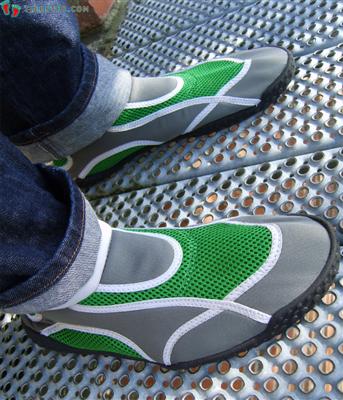 Thanks to Brentastic for this suggestion. Water Aqua shoes are reviewed as runners here, and it looks like they perform pretty well.
Top choices:
Outdoors use: Vibram Five Fingers, Huaraches, or Bare Feet
Outdoor on a budget: Huaraches
Indoors / Everyday use: Terra Plana Barefoot, Kigo (Star only)
Everyday on a budget: Feiyue, Chucks/Toms
Winter: Feelmax