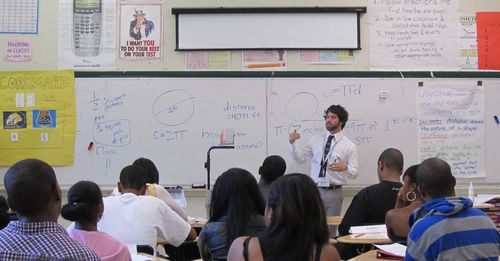 My advisor caught me on camera last week. We're figuring out how many sweet potatoes it takes to make a 14-inch diameter pie. 
I'm at Dorsey High's summer school program. My students are mostly incoming 11th and 12th graders, with one or two incoming 10th graders trying to get ahead. The makeup is about 80% African American, 20% Latino. I haven't seen a single white or Asian kid in the entire school (besides the 40-odd TFA teachers here). I teach a single 45-minute lesson each day, as well as co-teach a 25-minute small-groups/catch-up period.

The kids know we're green, but I don't think they know just how green. You plan the lesson as detailed as you can, deliver it and run the class like you know what you're talking about, and pray the kids don't figure out that this is as much of a learning experience for you as it is for them. Things are starting to settle into a routine, but every day is still an adventure filled with new experiences, mistakes, frustration, inspiration, and growth.
One other random thought: to these kids, we are now those teachers who we could never imagine having lives outside of school. They don't understand that Mr. Shackelford, Ms. Lenahan, Mr. Garris, and Mr. Alston all stay up until 1 A.M. doing their lesson plans, go out on weekends for Greek food, yogurt, and beer, watch TV, and laugh, live, and love like they do. On the other hand, I can still barely imagine my own teachers having lives, so I don't blame them.