I feel like just a few years ago, there were two types of earphones around: $20 Sony and Sennheiser ones that sounded like !@#$, and exotic $100+ in-ear monitors. I thought I had found the perfect budget phones in the NuForce NE-7M, but they quit on me about a month ago, leading me on a long journey through audio-forum land in search of new 'buds.
I landed at head-fi.org, a forum for headphone obsessees that range from starving students comparing the best $10 plastic headphones to pro musicians who are happy to drop $800 on custom stage monitors. It was easy to spend a week lurking on this pretty friendly board, surprisingly free of the trolls and internet tough-guys that usually haunt the BBS's.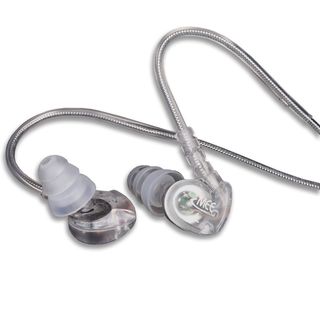 The earphones come in a nicer box than many that cost two or three times as much. Eight different tips ensure a great fit, and the housings and cable are sturdy, transparent plastic. These are the first earbuds I've had that are meant to be worn over the ear, and I find it more comfortable and stable than having the wires dangle straight down. With the triple-flange tips, I can barely hear someone talking right next to me, even with no music on. With the shallower tips, they're less isolating.
As far as sound goes, the M6 is warm and bassy, but still detailed. It's fairly forgiving of poor source material (low sibilance/artifacts), but also makes great recordings shine. If you're a FLAC-obsessed classical junkie, look elsewhere, but for the mix of rock, hip-hop, electronica, and blues I listen to, these are the perfect phones.
Get them at Amazon for $20, or $25 for the version with a microphone and iPhone remote. At that price, it's hard to go wrong.