The Six Apart team and I have had an on-off relationship— I interned for them one summer in college, then worked part-time in their Japan office while I was studying abroad. When my summer travel plans fell through this year, I emailed my old (awesome) boss Doug, and he hooked me up as a summer intern.
Business as usual? Not quite. Six Apart merged with Videoegg and became SAY Media a while ago, and the new company is bigger and moves faster. We take up three out of four floors in our swanky SOMA digs, every level full of "creatives" with 30-inch monitors churning out design work, sales and marketing folks driving the ad platform, and engineers making sure Typepad stays awesome. Oh, and us IT folks, tucked away in a corner. Doug is on the left, Eric "The Asian Guy" Yue on the right.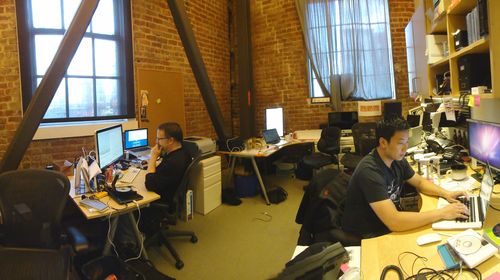 After my old office, a tiny workbench outside our one-person office, the space is a major upgrade. I've even got a mac at my desk! Compared to public school, where I had a PTA-funded budget of $125 for the year, it's weird being able to just order stuff you need to do your job. Having a budget of "what do you need?" is empowering, and seriously invests me in the work we do.
I'll be here through July- if you're in the area, grab me for lunch sometime.