I used to be really into standing desks, but that was before I spent 8 hours a day on my feet teaching. Now, I'm happy to come home and work sitting down. Unfortunately, most office equipment is maladapted to someone 5'3" with a 27" inseam. Here's what works for me:
OSHA says your monitor should be about 20-40" away, with the top of it at eye level. I could never get there with the monitor on its stand, but taking it off puts it in exactly the right place.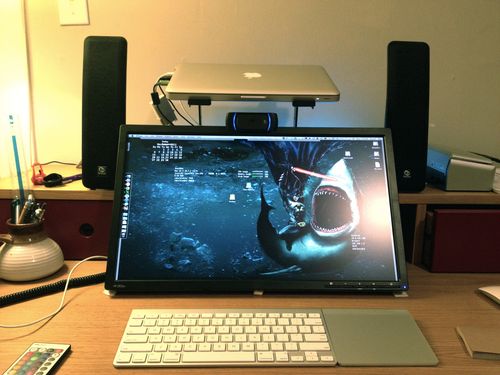 It resists sliding pretty well on its own, but I added a little foam tape on the bottom for peace of mind. I considered drilling into the desk and adding a few nails or screws as permanent slide-stoppers, but I'm not sure how permanent this desk is and I don't want to screw the resale value.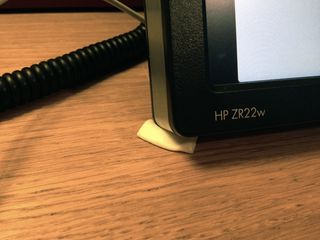 I like nice office chairs, but most of them have seats that are way too long for short legs, cutting into our calves and leaving our feet dangling. After looking around, I found the Steelcase Leap, the only chair with a sliding seat, so you can adjust it for pretty much any leg length. It's comfy, too, and has awesome lumbar support and adjustable armrests. Buy it used! They're built like tanks and retail for way too much.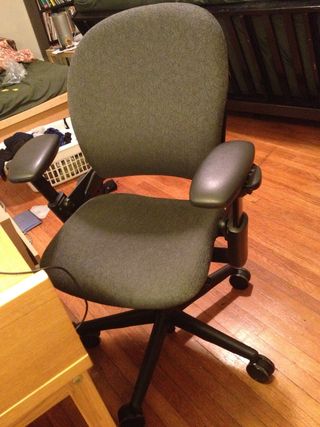 Finally, I have a footrest to make sure I'm supporting my weight on my feet as well as my butt. Nothing special, just a block of wood that doubles as a hiding place for power strips.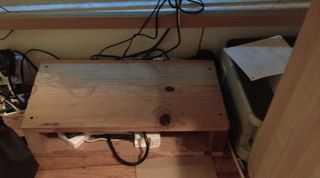 There you have it! For the geeks in the crowd: I have a 2010 Macbook Pro, with the optical drive replaced with a 128GB SSD. I usually run it in clamshell mode (closed). I love my Magic Trackpad, and use Jitouch for everything. The monitor is an HP ZR22w, a cheap 22" IPS display I bought because it was the smallest 1920×1080 one I could find, and yes, I found my batman-fighting-a-shark-with-a-lightsaber picture on Reddit. The speakers are discontinued Boston Acoustics MM220s that cost $20 or $30 and sound fantastic except for the occasional crackle from an unshielded cable.