Most people get Dropbox in order to sync up files across their computer- it's the obvious use case, and the freedom from USB sticks and emails to yourself is fantastic. That said, there's great lesser-known Dropbox version hiding on the dropbox.com website: version history.
Log in to your account at Dropbox.com, then right-click any file. Click the "Previous Versions" option.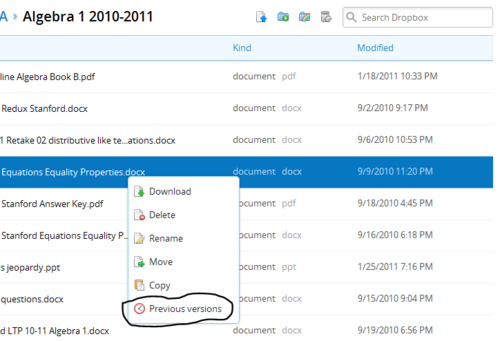 You now have the option to open any previously saved version of the file. This is great if you deleted some chunks of text and accidentally saved, or (like me) modified a presentation for one group of students but wanted to give your next class the unmodified version.

Accidentally deleted a file? No worries: as long as it was from your Dropbox, just click "show deleted items" in the top icon bar, and it should pop right up.

If you don't have Dropbox yet, what are you waiting for? They give you 2gb of space for free, enough to hold all your text files, receipts, and non-multimedia stuff. If you want to get it all in there, extra space is pretty cheap as well. Download the program for free through this link- they'll walk you through installation and account setup.