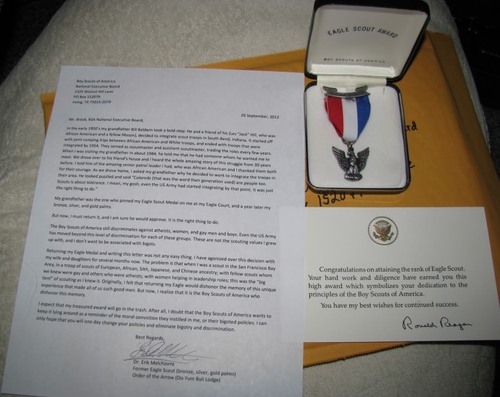 My grandfather was the one who pinned my Eagle Scout Medal on me at my Eagle Court, and a year later my bronze, silver, and gold palms.
But now, I must return it, and I am sure he would approve. It is the right thing to do.
The Boy Scouts of America still discriminates against atheists, women, and gay men and boys. Even the US Army has moved beyond this level of discrimination for each of these groups. These are not the scouting values I grew up with, and I don't want to be associated with bigots.
Returning my Eagle Medal and writing this letter was not any easy thing. I have agonized over this decision with my wife and daughters for several months now. The problem is that when I was a scout in the San Francisco Bay Area, in a troop of scouts of European, African, Sikh, Japanese, and Chinese ancestry; with fellow scouts whom we knew were gay and others who were atheists; with women helping in leadership roles; this was the "big tent" of scouting as I knew it. Originally, I felt that returning my Eagle would dishonor the memory of this unique experience that made all of us such good men. But now, I realize that it is the Boy Scouts of America who dishonor this memory.
I expect that my treasured award will go in the trash. After all, I doubt that the Boy Scouts of America wants to keep it lying around as a reminder of the moral conviction they instilled in me, or their bigoted policies. I can only hope that you will one day change your policies and eliminate bigotry and discrimination.
Best Regards,
             Dr. Erik Melchiorre
 Former Eagle Scout (bronze, silver, gold palms)
 Order of the Arrow (Oo Yum Buli Lodge)
-Eagle Scouts Returning Our Badges (via BoingBoing). Over 200 letters collected so far.