It's bragging time.
One week ago, over 550 dancers gathered at the Alexis Park resort in Las Vegas, Nevada, for 72 straight hours of "Fusion" dancing – blues, swing, tango, WCS, and more all sharing the same music and the same dance floor.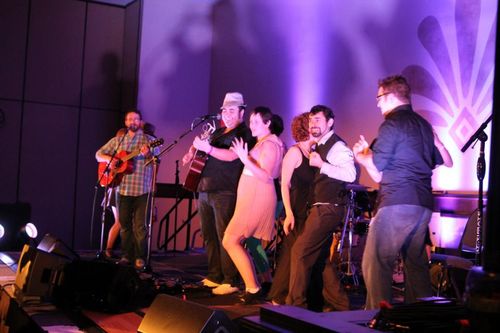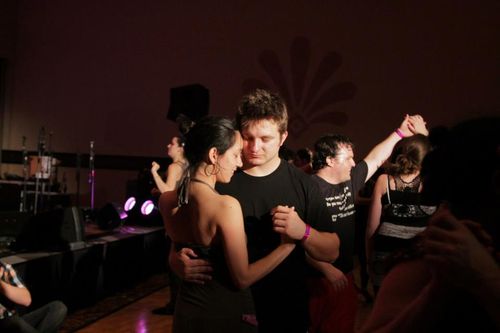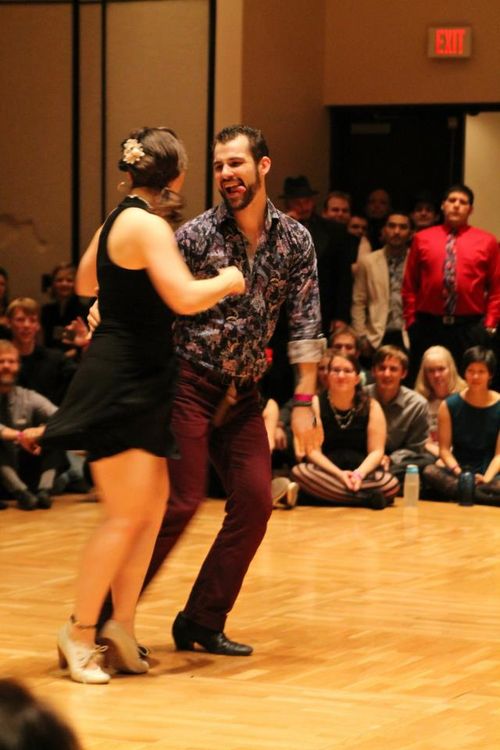 (Photos by Sara Van Vreede)
I've been working with the Fusion Exchange since 2009, handling our Internet marketing and various other logistics. I took a bigger role this year, transitioning us to a new registration system, launching two new websites, and joining the core leadership team. 15 of us worked all year on this event, sending thousands of emails, passing around dozens of Google Docs, and essentially working a part-time, essentially unpaid job for a project we love.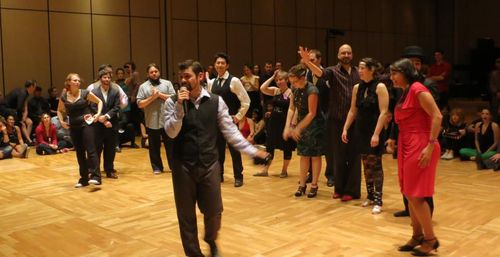 (The FX organizing team – yours truly second from the left)
Did it pay off? Here's what our Facebook wall looked like this week:
"That was the most amazing weekend of my life! I was a little apprehensive to go but I am so glad that I did because it has changed my life! Thanks to everyone that help made it possible for the blues fusion community to come together and expand our families! Love you all!"
"To those behind the scenes, to those who served up the music, and to everyone who danced: Thank you!!! My flight landed 21 hours ago, and I feel like my feet still haven't touched the ground. :-)"
"Smiles. All day smiles.
Every year I walk away from FX feeling incredible …it's like living a different life in a different world.
I feel honored to help out on this event. FX touches my heart in a way that no other event has ever touched me."
"Thank you LVFX for this fantastic event! I was blown away by the level of instruction, talent and organization! This was my first, but will not be my last."
"This weekend changed my life, not an exaggeration! As a brand-new partner dancer I was really nervous wondering if I was insane to attend. But the warmth and openness of the dancers at LVFX and the incredible level of instruction helped me create an amazing foundation. Thank you so much for all the love, passion, and hard work that made this event so evolutionary & blissful."
"This was the best exchange I've been to in my 11 years of dance. It has made me excited to spread more great fusion to our scene in Tucson. Thanks to all the organizers, DJs, volunteers and everyone else who made it happen. I can't wait for next year!"
"THANK YOU Fusion Organizers for your amazing hard work this past year, to create a bigger and better event. You took lots of feedback and upped the ante. Thank you attendees, for showing up, dancing, learning and making all the work worth it. Really looking forward to pushing more edges next year."
There were mishaps along the way, to be sure. There are lots of lessons to learn for next year, and lots of places for us to grow. However, there's nothing better than feeling like something that you made touched a huge group of people in a positive way. I'm proud of my team, proud of myself, and want more of this in my life.
If you've never gone social dancing, you're missing out. Joining a dance scene is kind of like joining the Hell's Angels, except without the Hell's Angels part. It's a worldwide community, the kind of thing where you can fly into any city in the US and instantly have a couch to crash on, friends to take you out, and a common language to speak in. Pretty much every weekly venue out there has a 0-60 beginner's lesson, and (maybe with the exception of Tango) experienced dancers are happy to show new folks the ropes.
Want to learn more? Check out: