Every month for the past three years, Amazon drops a few bucks in my bank account. It's rarely more than $10 or so, but it's still funny to me that three years after I wrote it, an article of mine is still buying me a beer or two (or a beer or two's worth of hosting fees) every month.
The post in question was Vibram Five Fingers Alternatives: Cheap, Practical Barefoot Shoes. This was back when *Born to Run *was big in the news, and Vibram's (in)famous five-toed, cushionless, minimalist foot glove things had just hit the market. I was really sold on barefoot exercise, but my then-girlfriend had a veto on the Five Fingers, so I looked elsewhere, finding DIY, repurposed, or lesser-known minimalist shoes all over the Internet. I linked to them with Amazon affiliate links, and I guess a few people bought them (Wushu Kung Fu shoes have been the most popular overall).
Anyway, I started Crossfit a few months ago, and was struck by how the minimalist-footwear world has progressed. Whereas ten years ago you'd see shoe companies go on about how much gel, air, honeycomb, or other space-age cushioning they had, now they're all trumpeting how light and minimal their footwear is. Whether it's New Balance's Minimus collection or Saucony's Kinvara line, the former kings of cushioning are joining the barefoot party.
I took a trip over to REI, tried out some of the new stuff out there, and ended up with the Merrell Trail Glove: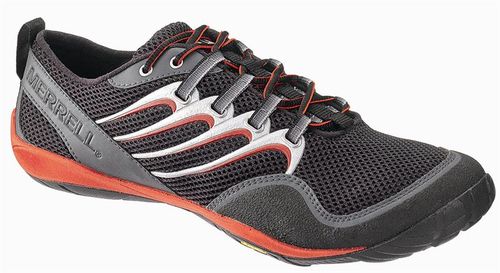 So far I've taken them on a ten-day trek through Israel, a Yosemite backwoods dance festival, Crossfit craziness, and all sorts of hiking and biking– they've held up great, are well ventilated, and the Vibram outsoles have great traction. As an added bonus, they're pretty low-key– after a few weeks of wearing, the black and red fades to muted brick and gray, and they look pretty much like any other sneaker. 
I do still think there's a market for something in the minimalist-yet-dressy category– like a Clarks's desert boot with a thinner, more flexible sole (or these but less ugly).
*Update: *Damn, looks like I missed the "Altums" barefoot dress shoe Kickstarter.