Great post on Wait But Why on why my generation is constantly dissatisfied. Highly recommended for anybody recently out of college and frustrated with their career, or trying to understand or manage a team of Gen Y kids.
With a smoother, more positive life experience than that of their own parents, Lucy's parents raised Lucy with a sense of optimism and unbounded possibility.  And they weren't alone.  Baby Boomers all around the country and world told their Gen Y kids that they could be whatever they wanted to be, instilling the special protagonist identity deep within their psyches.
This left GYPSYs feeling tremendously hopeful about their careers, to the point where their parents' goals of a green lawn of secure prosperity didn't really do it for them.  A GYPSY-worthy lawn has flowers.
…….
Unfortunately, the funny thing about the world is that it turns out to not be that easy of a place, and the weird thing about careers is that they're actually quite hard.  Great careers take years of blood, sweat and tears to build—even the ones with no flowers or unicorns on them—and even the most successful people are rarely doing anything that great in their early or mid-20s. 
……
Social media creates a world for Lucy where A) what everyone else is doing is very out in the open, B) most people present an inflated version of their own existence, and C) the people who chime in the most about their careers are usually those whose careers (or relationships) are going the best, while struggling people tend not to broadcast their situation.  This leaves Lucy feeling, incorrectly, like everyone else is doing really well, only adding to her misery: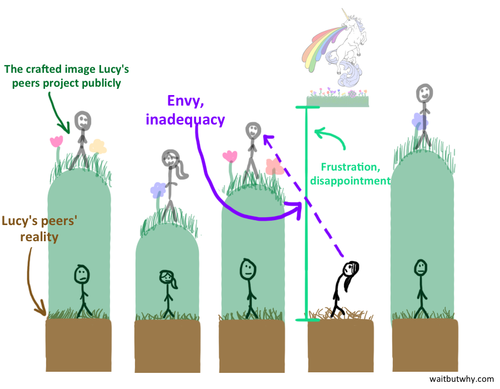 Why Generation Y Yuppies are Unhappy – Wait But Why