Inside Intercom is up there with Signal v. Noise as one of my favorite company blogs: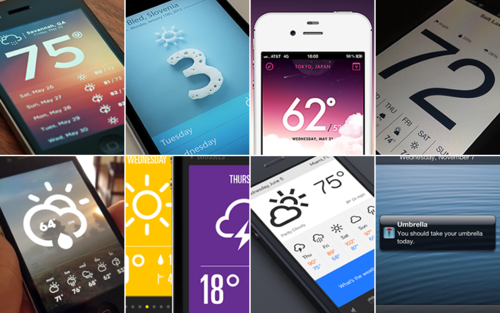 Only one of these weather apps is attempting to solve the real problem.
Much of the product design work from job applicants I've seen recently has been superficial, created with one eye towards Dribbble. Things that look great but don't work well. Perfect pixel executions of flat design, but work that doesn't address real business goals, solve real problems people have every day, or take a full business ecosystem into consideration. Dribbble itself shapes the conversation to some extent, the medium shaping the message, with highlighting of colour palettes and other superficial details prominent in the UI. People look and people emulate. A huge majority of the product design work on Dribbble looks the same. Whether it's social software, accounting software, a marketing site, a weather app, the same styles are applied. 
…
In contrast, the best job applicants I've seen sent in their thought process. Sketches. Diagrams. Pros and cons. Real problems. Tradeoffs and solutions. Prototypes that illustrate interaction and animation. Things that move, change and animate. Things that use real data.
The Dribbblisation of Design | Inside Intercom
I recently completed a product design project at PagerDuty, and this rang so true– the challenge is framing the problem, identifying the needs, and banging smart people against tradeoffs, and prototyping with real data. The visual style is important (and thankfully we have a crack visual design team, because I suck at it), but for the product you build to be useful, the problem has to come first.