There's a great article up at Roads and Kingdoms about the Sunset and Richmond districts, an area of SF that's loved by natives but often overlooked by transplants. I grew up blocks from the ocean, and the descriptions here really resonate:
At times moving from east to west in San Francisco feels like traveling back in time. The eastern parts of the City feel almost futuristic, dotted with ultra-modern glass and steel apartment buildings featuring all the latest amenities. The jewel is AT&T Park, the best ballpark in the big leagues. Heading across the city from there, you can get to the financial district, then through the Mission where techies and hipsters live grudgingly side by side, and on to Hayes Valley, where San Francisco's new wealth is sometimes overwhelming. Don't forget Pacific Heights, where scions of old San Francisco families live next to the more adventurous 40- and 50-something-year-old alums of the top universities and business schools in the country

When you finally arrive in the city's west—the Richmond District, or its southern sister the Sunset—a different San Francisco comes into focus. Many natives know the region simply as The Avenues, from 2nd Avenue to 48th. In the inner Richmond, Clement Street is the heart of a neighborhood of cheap Chinese retail stores, a few remaining Irish bars, blisteringly good Asian restaurants, and cafes where you are still more likely to encounter Asian-American teenagers hanging out talking and flirting with each other, or old hippies reading books, than young white professionals hard at work figuring out the most efficient ways to get Americans to buy and sell things. It is the Avenues where the San Francisco of the last quarter of the 20th century can most clearly still be found.
The Sunset and Richmond aren't your typical techie destinations– there are no hip bars with $14 cocktails, no hip brunch joints, no sunny Dolores Park. But there are gems like Old Mandarin Islamic, popular among visiting Chinese celebrities, or the miles of dog-friendly trails at Fort Funston, where you can hike through sand dunes and watch hang gliders run off a 200 ft cliff.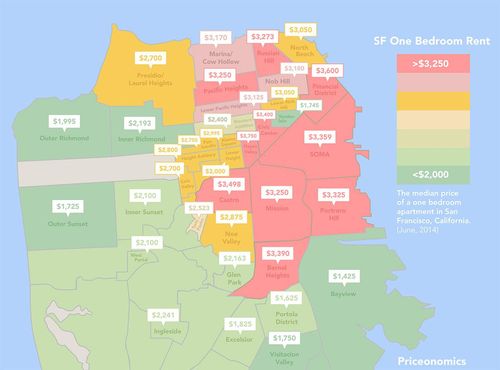 The housing explosion hasn't quite caught up to the west side, either. Where median one-bedrooms are now over $3,000 in the Mission, you can still find them under $2,000 out in the Avenues. It's still insane compared to what you can get anywhere but the Bay Area and New York, but I'm hoping that by the time I'm ready to look for more of a permanent home, the tech hipsters haven't discovered the city's quiet west side.